Tractor Driven Gang Mowers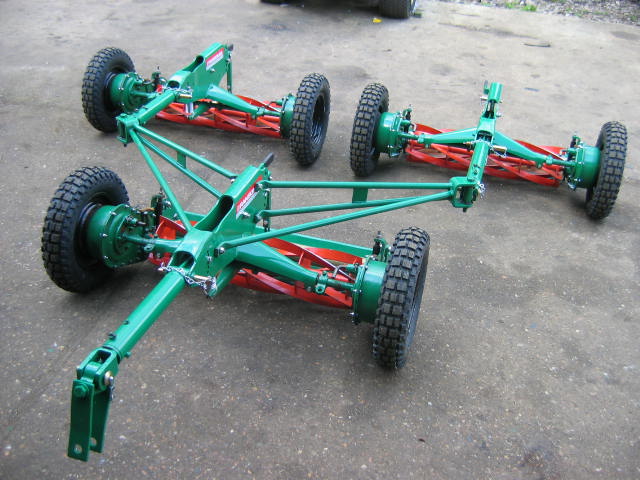 Ransomes trailed Gang mowers mk 11 and 13
For more than a century these ground-driven gang mowers by Ransomes have provided one of the most efficient, cost-effective and productive methods for maintaining large open spaces.
They can be configured from a single unit to a maximum of five. At Upson mowers when we recondition these gang mowers we have a fixed policy – every nut and bolt stripped including a complete gearbox strip and overhaul on both sides of every machine– these are a total rebuild, new bearings and seals throughout – they come out like brand new units at a fraction of the cost, if you find a cheaper set of these be sure to enquire about the depth of gearbox renovation.
Hydraulic 5
The Ransomes Hydraulic 5 is almost exactly the same machine as the 214 triple gang, except it has 5 cutters instead of 3, this gives it a cutting width of well over ten feet and because it's so easy to lift up and down (like the 214) it's very easy to put some seriously big stripes into your work, requires 45 HP +.
Ransomes Hydraulic 214
The 214 from Ransomes is a very reliable very well built hydraulic triple gang mower that can be easily lifted for turning or transport on the 3 point linkage.
We always test the hydraulic pumps and overhaul the gearboxes with new SKF bearings as part of our renovation procedure, once we've done that and tested the 3 cutter motors you're safe from any unknowns – a great model that cuts really well, available in magna or sports with a variety of options, requires 30 HP +.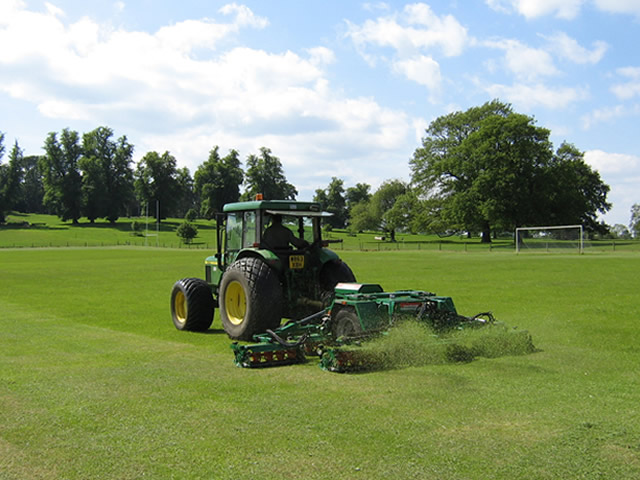 Ransomes TG3400 and TG4650
TheTG3400 is the 3.4 metre cutting width 5 gang mower from Ransomes and the 4650 is the 4.65 metre 7 gang version. Both excellent machines. They are very strong, hard working mowers that just keep going, superb reliability record.
If you have access to a large tractor (50 or 70 HP respectively) and your sites are reasonably close to each other then these gang mowers on their high speed trailers with brakes and suspension are a good option, very easy to take on and off the tractor.
Hayter TM549 and TM749
The Hayter Commercial gang mowers have always been good quality, these models don't disappoint.
They can cover some serious amounts of ground, the Hayter gangs are also very easy to take on and off the tractor. They offer excellent reliability as well as value for money (50 and 70HP requirement) the performance is again well matched to the 2 models in the Ransomes TG range, the four models across both brands are all superb machines.