Cricket Rollers
We offer a wide range of reconditioned cricket rollers including:
Wicket Mowers
Outfield Mowers
Rollers
Scarifiers
Spikers
This is a brief look at our range of rollers; please contact us for information on purchasing or hiring any of the following.
Stothert and Pitt 32RD
The Stothert and Pitt roller is synonymous with English cricket, I would hazard a guess and say that there are more wickets rolled with these in the UK than any other type of roller, coming in at around the 1 – 1.5-ton mark (depending on ballast) they are a superb medium weight roller, when we recondition these rollers we strip everything out and start again, new bushes, new gears, reconditioned gearbox, new Honda engine, new chain, new seat.
All this along with a traditional British racing green paint job in our spray shop and red coachwork make these a mechanically restored beautiful looking tandem roller that is very easy to use and won't take up all the space in your machine shed, optional extras include electric start engines and water ballast conversions.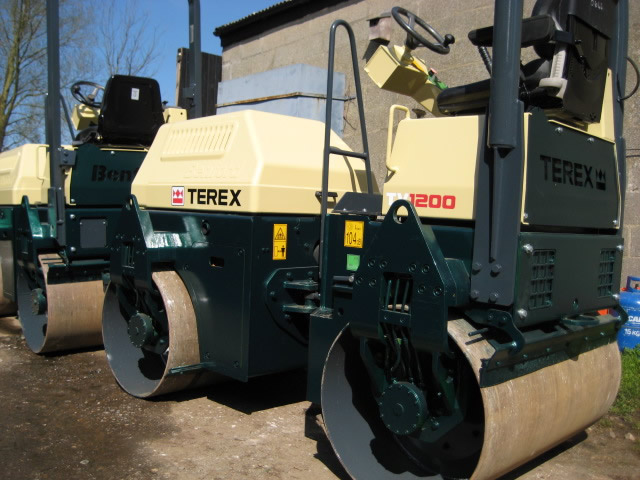 Benford and Bomag
These rollers have risen up in the cricket world over the last ten years from relative obscurity to take their place as the modern preferred choice. Available in 3 different classes…
80 cm 1500 kg
100 cm 2250 kg
120 cm 2650 kg
Where some other manufacturers have struggled to retro-fit hydraulic conversions to old style rollers, we prefer to leave it to these two global companies who have spent millions in R and D making their rollers bulletproof enough to survive life in the construction industry.
There are plenty of these available second hand but most are already at end of life status, we search the market for the perfect few that are available each year with low hours from a gentle home, these are then tastefully restored and serviced in our workshops.
If you want a heavy roller with electric start, power steering and hydrostatic drive then this is by far the most reliable ergonomic option, an elevated seating position offers excellent vision at the front and rear roller edges.
Auto roller 3 and 4'
These are the quintessential classic cricket roller, they dominated the professional grounds for years until the new makes and models became more prolific, they are still a great tandem roller with lots to offer, including a few extra kilo's, both front and rear rollers can be ballasted, the Auto roller is still in contention as a leading heavy weight roller.